Order from
"We Island"
Use the 'Add To Cart' buttons to order through our Pay Pal™ store. Click any 'View Cart' button to see or change your order, and to proceed to 'Check Out' when your order is complete.
You may view each item's details by clicking the small picture icon.

#5b) Garlic Butter, Crab & Shrimp Boil
7 oz. bottle—$7.50 +S&H

Call (843)441-8796 for questions about Shipping and Handling Costs on your order.

Don't Forget De Tings...


Don't Forget De Tings…
…Gumbo, Spices, Breader, & more…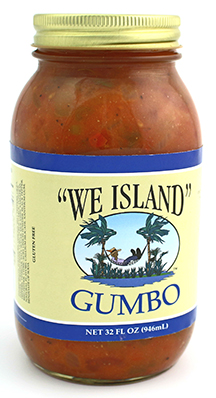 "We Island" Gumbo available at stores near you!
Ask for it!

To order through PayPal ™ you do not need a PayPal account. Click the 'Add to cart' buttons and enter number of each item on the cart page. Shipping & handling charges are calculated automatically. Proceed to checkout, click the 'Continue' link on the left side of the screen (ignore the PayPal login at right unless you have a PayPal account you wish to use) and safely enter your payment details.

"We Island" Group, LLC
P.O. Box 1612
Saint Helena Island SC 29920
843-441-8796

Let us CATER your next office party, family get-together, or sporting event.


SERVING THE LOWCOUNTRY;
HILTON HEAD, BLUFFTON, BEAUFORT, FROGMORE, SAVANNAH, & CHARLESTON