We Island Catering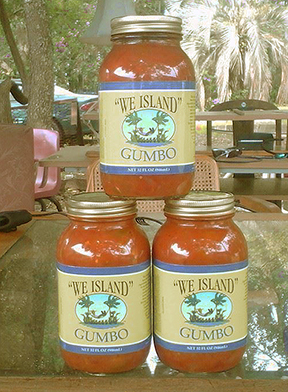 Proudly Serving "We Island" Gumbo

Try us for your next office party, family get-together, or sporting event.

"We Island" Gumbo
– Speciality Gumbo with Large Shrimp & Crab Meat
– Steamed Rice & Corn Bread
Low Country Boil
– Jumbo Shrimp & Smoked Sausage
– Corn, Potatoes, Onion & Our Own Special Seasoning
Shrimp Fried or Steamed
– Shrimp, Shrimp & More Shrimp
– Saltines & Cocktail Sauce
Oysters or Clams Steamed
– Clams, or Oysters
– Saltines & Cocktail Sauce & Oyster Knives
Fish Fry
– Fish Fillet, Hush Puppies, Coleslaw
– Baked Beans, Sliced bread
Crabcakes
– Blue Crab Mix, Coleslaw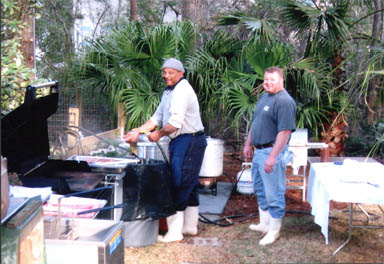 "Cookin' fo' You!"
Rowland & Jason 'Spanky' Dangerfield
"…No Need Fuh Go Hungry in de Lowcountry"
We love to cook outdoors. The salt air gives our food a special texture that's lost inside. Our signature meal is Seafood Gumbo over Rice, served with Cornbread, Tomato & Cucumber Salad, and a glass of real Lemonade. Fish, shrimp and oysters make up our list of entrees, and Sweet Potato Pie reigns as our favorite dessert.
We steam—we do not boil—our shrimp, crabs and shellfish. Our seasonings contain blended spices which accent the flavor of the local sea fare. Shrimp is the favored menu item both on land and in the sea. This delicate sea creature is the main staple of man and fish alike. Cast net enthusiasts will find that a freshly caught shrimp has a delightful flavor even when eaten raw. That being said, the flavor increases while it cooks up to a point, then decreases rapidly as cooking continues. In real people talk, "It don't take lung to cook swimp'; two to four minutes boiled or until they just turn pink if you steam them.


CATERING MENU
SEAFOOD EATS
HOT OFF THE GRILL
SALADS, ETC
DRINKS
SWEET EATS
ODDS & ENDS

Let us make a custom meal for your party. We do a backyard cookout presentation. The menu items listed are our most common.

Grilled Chicken
– Breast, Legs, Thigh, 1/4's
– Coleslaw, Baked Beans, Rolls
Pulled Pork Butt Rub
– Slow Cooked Pork Butts
– Coleslaw, Baked Beans, Rolls
BBQ Ribs
– Pork Ribs Slow Smoked
– Coleslaw, Baked Beans, Rolls
Grilled Dogs & Burgers
– Burgers, Nathan's Hotdogs & Buns
– Onion, Relish, Baked Beans, Coleslaw
– Ketchup, Mustard, Lettuce, Tomato

Don't Forget de Odds & Ends (extra chgs)
– Cups, Plates, Bowls, Napkins. Utensils
– 8 ft Folding Tables
– Oyster Tables
– Plastic Table Covers
– Cloth Table Covers
– Folding chairs
– 48 Qt Cooler With Ice
– 10'x 10' Party Tent
– 20'x 20' Party Tent
– Outdoor Lights
– Generator
– Large Trash Cans
– Trash Removal
– Oyster Shell Removal

– Tomato & Cucumber Salad
– Potato Salad
– Corn Bread

– Sweet Tea
– "We Island" Lemonade
– Hot Chocolate
– Coke or Pepsi Products

– Lemon Zest Bars
– Rocky Road Brownie Bars
– Turtle Caramel Pecan Bars
– Plain Chocolate Brownie No Nut
– Sweet Potato Pie
– Cheese Cakes
Many Other Desserts available


"We Island" Group, LLC
P.O. Box 1612
Saint Helena Island SC 29920
843-441-8796